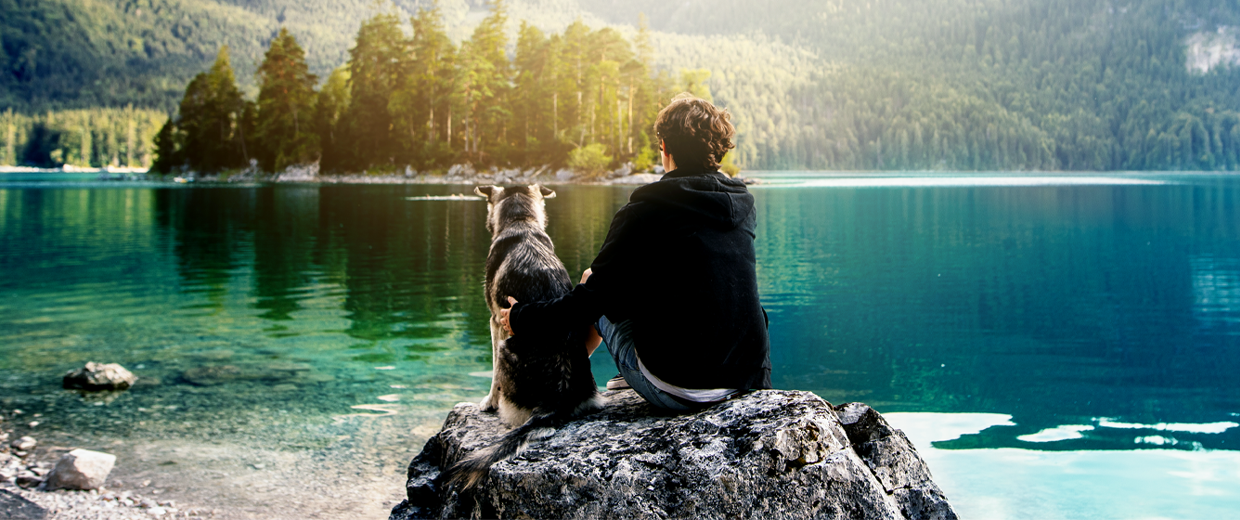 Our Story
At Lintbells Veterinary, home of YuMOVE and the YuMOVE ADVANCE 360 Joint Care range, we're dedicated in our mission to help as many cats and dogs as possible around the world live an active life. We're proud to be the UK's no.1 veterinary joint supplement brand,* already supporting over 2 million dogs a year.*
As a busy vet, you want to give your clients fast, effective, and trusted solutions for their pets. That's why, here at Lintbells Veterinary, we developed YuMOVE ADVANCE 360 Joint Care – our vet exclusive, extra-high-strength joint supplement range. It's designed for dogs and cats under veterinary supervision that are experiencing joint stiffness, so that your clients' pets can keep living their most active life, for life. Plus, we offer an extensive product range that also supports digestion, calm behaviour, dental care, and a healthy skin and coat.

The Lintbells story
We've been making high-quality supplements for pets since 2006. Our journey started with Dr John Howie DL and John Davies – two people passionate about pet wellness and science. After realising there was a place for affordable but effective pet supplements in the market, they started Lintbells. Through dedicated vet practices like your own, we're able to support pets day in and day out.
We know that at the heart of pet care and wellbeing are vets. As a brand, we always encourage our customers to talk to their vets about pet supplements. The YuMOVE ADVANCE 360 Joint Care range was developed as a veterinary exclusive formula, designed for dogs and cats under veterinary supervision who may need additional joint support from our highest strength joint care range. 
It's veterinary exclusive because we know it's important that pets experiencing joint stiffness who may need support from our highest strength joint supplement range are visiting their vet regularly.

Scientifically formulated, packed with love
At Lintbells Veterinary, we're science and heart combined. In pursuing our mission, we search for the most innovative solutions to support pets in a variety of ways. But we don't scrimp on quality either. 
Over 15 years of dedicated scientific research and over £1 million of investment has helped us develop our clinically proven formula.* We care about upholding our high standards at every level, and that's reflected in our formulas and products.
What's more, YuMOVE ADVANCE 360 Joint Care for Dogs is backed by two in vivo, double-blind, objectively measured clinical studies.*

Unique and powerful ingredients
YuMOVE ADVANCE 360 Joint Care for Dogs and Cats is powered by our unique and sustainably sourced ActivEase® Green Lipped Mussel (GLM), sourced from the crystal-clear waters of New Zealand. ActivEase® GLM delivers up to eight times the level of Omega-3s compared to standard GLM powder.* These Omega-3 fatty acids combined with other bioactives, allows GLM to provide a broad range of nutrients to support to joint health.
Our joint supplement range also contains high-purity Glucosamine HCl, which provides a synergistic effect with naturally occurring Chondroitin (found in its natural form in GLM) and helps support cartilage. YuMOVE ADVANCE 360 Joint Care also contains a specific form of Hyaluronic Acid, shown to reach the joint in just two hours.*

How do we support vets?
We make a conscious effort to think about what vets want. As part of our community, you can access our amazing benefits programmes, exclusive to veterinary professionals – Vet Active Life, Vet Rewards and The Vet Hub.
We're confident in our products and you can be too. That's why we offer your clients a guarantee – see the difference in six weeks, or clients receive 100% of their money back, guaranteed.*
Quality and consistency are key
We always strive to produce high-quality products, and we know that quality and efficacy matter to you. We are obsessed with the quality of our product and that's why we constantly assess and review and test and tweak and adjust. We sample every batch of ActivEase® Green Lipped Mussel up to eight times in a day and analyse over 40 fatty acids. That's why we know we're delivering a superior quality every time.